Prof. Vashti Sawtelle to deliver plenary at FFPER 2017
Release Date: Dec 9, 2016
Categories: news-articles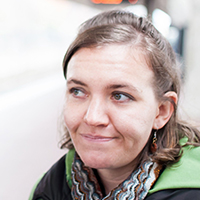 PERL co-director Vashti Sawtelle has been invited to deliver a plenary at the biennial Foundation and Frontiers of Physics Education Research Conferenceheld in Bar Harbor, ME (June 19-23, 2017). Her plenary will discuss the intersection of interdisciplinarity and equity -- two essential and overlapping areas of study for physics education.
Prof. Sawtelle is leading several research projects at Michigan State that investigate interdisciplinary thinking, equity, and how these ideas necessarily intersect in physics classrooms.
Share this story
Upcoming Events
December 9, 2020
PER Seminar

Katemari Rosa
Wednesday, December 9, 2020 at 3:00pm on Zoom
Link: https://msu.zoom.us/j/98809651234
Password: perseminar
Title: PER in a post-truth era: whose science is being denied?
...more events