APS CUWiP at MSU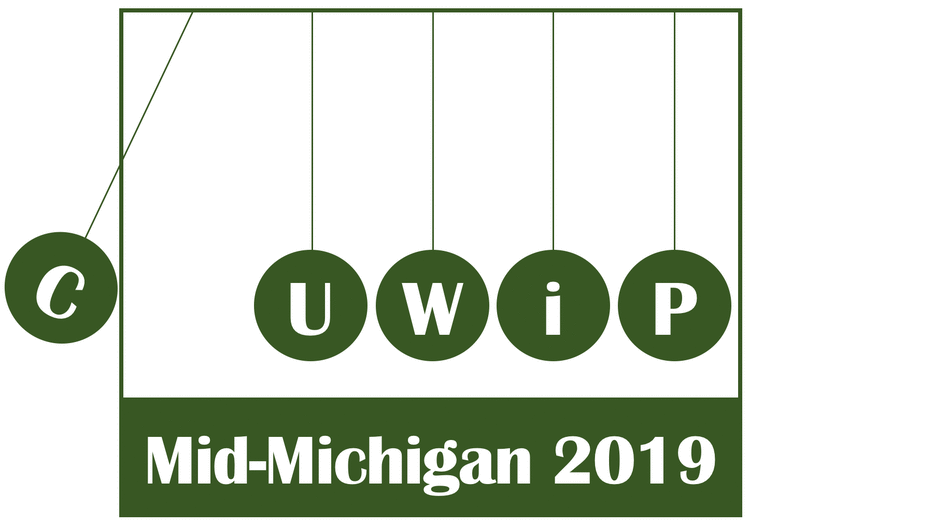 The Department of Physics & Astronomy at Michigan State University (MSU) is proud to be a host site for the APS Conferences for Undergraduate Women in Physics (APS CUWiP). This is a three-day regional conference for undergraduate physics majors. The 2019 conference will start Friday evening, January 18 through Sunday afternoon, January 20, 2019.
The MSU conference will bring together over 150 regional undergraduate women in physics and successful female physicists to focus on supporting women in physics and on their professional development. The meeting will provide ample opportunities for interacting with fellow physicists, including:
Presentations by professional physicists on their cutting edge research and personal career paths
Panels featuring career opportunities outside academia
Workshops and panels offering guidance on how to get involved in summer research, the graduate school application process, transferring from a small college to large physics department, preparing for and applying for jobs in industry, best practices for mental wellbeing, and much more.
An opportunity for undergraduate attendees to present their research in a poster session
A tour of National Superconducting Cyclotron Laboratory and the MSU Physics Department labs
There will also be a Pre-Conference Professional Development Workshop, details will be coming soon.
Who can apply?
Any undergraduate student at a US institution is invited to apply to attend an APS CUWiP. Apply to the site location determined by your region. Students in Canada are encouraged to apply to the Canadian CUWiP at the University of Ottawa
How much does it cost to attend?
Students who are accepted to attend the conference must pay a one-time registration fee of $45, which helps offset some of the cost of the conference, including all lodging and meals. Lodging (for non-local students) and food will be covered by the conference; you do not need to pay for your hotel room or food at the conference. Financial assistance and fee waivers can be obtained on a need-by-need basis; email cuwip@pa.msu.edu for more information.
MSU is one of 12 regional sites hosting conferences simultaneously across the United States organized through the American Physical Society and its local organizing committees. MSU will host students from institutions in Indiana, Kentucky, Michigan, Ohio, and parts of Pennsylvania (West of State College).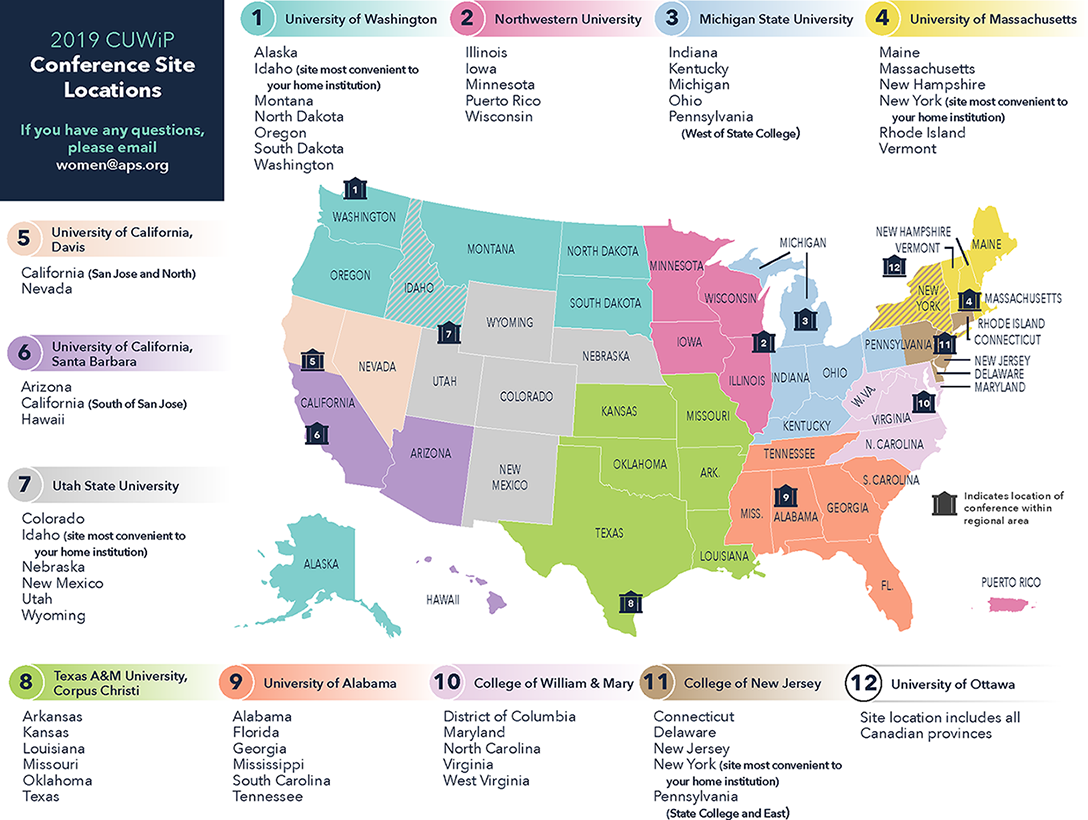 About APS CUWiP
The goal of APS CUWiP is to help undergraduate women continue in physics by providing them with the opportunity to experience a professional conference, information about graduate school and professions in physics, and access to other women in physics of all ages with whom they can share experiences, advice, and ideas. Past participants have described their experiences attending CUWiP as an enlightening and empowering experience.
A typical program will include research talks by faculty, panel discussions about graduate school and careers in physics, presentations and discussions about women in physics, laboratory tours, student research talks, a student poster session, and several meals during which presenters and students interact with each other.
In 2006, the University of Southern California hosted the first APS CUWiP. The grassroots effort grew quickly, and within just a few years there were six conferences being hosted simultaneously.
How to Apply
Applications will be available from September 3rd, 2018 until October 12th, 2018. In order to apply, head to the APS website: https://www.aps.org/programs/women/workshops/cuwip.cfm. When the application is available you will be asked to fill out a form asking for:
Contact information
Institution and Field of Study
Preferred site to attend APS CUWiP and justification
Question asking if you have requested travel funding from your department
Applicant statement on objectives for attending APS CUWiP (100-200 words)
If you are accepted, you will be asked to fill out a registration survey. Students who are accepted to attend the conference must pay a one-time registration fee of $45. If you cannot afford the registration fee and your department/college is unable to help, you may request a fee waiver to APS directly at women@aps.org by submitting a statement attesting to your financial need and verifying that department or university funds are not available. Further details will be provided when you are invited to register for the conference. You must request a fee waiver at least two days in advance of registering (not applying)
We highly recommend applicants contact their department to ask for travel funding. If you have already asked your department and they are unable to provide you with funding, there will be limit travel funding available on a reimbursement basis. Contact cuwip@pa.msu.edu for more details.
Speakers
Keynote Address
Diversity, Intersectionality, & Bias Panel
Careers Panel
Workshop Speakers
Physics Slam Speakers
Posters
On Sunday, January 20th, APS CUWiP at MSU will have an opportunity for students to showcase their research during a poster session! Though it is not mandatory, students are encouraged to use this as an opportunity to practice presenting their research. We welcome all students to make a poster despite how far along they are in their research projects; students are not expected to have major "results" or scientific discoveries. Please join us in this opportunity! If you would like to discuss your research at MSU's APS CUWiP, you will need to indicate that you will be presenting a poster when you register for the conference in November. Please note that there will be an opportunity to add a poster presentation later (in early December), should you be unsure when you register, and that you do not have to present a poster to be welcome at CUWiP. You will be asked to provide the title of your poster, the area of emphasis, and an abstract. Your title and abstract will be printed in the program so
abstracts must be 300 words or less
. All posters should be printed prior to the conference; posters should be 36" x 48" in size. We will be providing thumbtacks to hang your poster during the session. If you have any questions or concerns about the poster session, please reach out to
cuwip@pa.msu.edu
and we will assist you.
Tentative Schedule
Note: All times are in the Eastern Time Zone
Date
Time
Event

18

Friday

January, 2019

11:00 AM
12:00 - 4:00 PM

(Optional) Professional Development Workshop

[

NSCL

]

3:00 - 5:00 PM
6:00 - 6:30 PM

Opening Remarks

[

Kellogg

Big Ten BC]

6:30 - 7:45 PM

Welcome Dinner

[

Kellogg

Big Ten BC]

7:45 - 8:30 PM
8:30 - 9:15 PM

Meet & Greet / Networking Event

[

Kellogg

Break out rooms]

19

Saturday

January, 2019

8:30 - 9:00 AM
9:00 - 9:50 AM
10:00 - 10:45 AM

Panel: Diversity, Intersectionality, and Bias

[

Kellogg

Big Ten BC]

10:45 - 11:15 PM

Coffee Break

11:15 - 12:05 PM
12:15 - 1:45 PM

Lunch with Graduate Students
[Brody Hall]

1:45 - 2:00 PM
2:00 - 3:30 PM

Plenary Broadcast: Fabiola Gianotti

[

Kellogg

Big Ten BC]

3:30 - 4:00 PM

Coffee Break
[Kellogg Lincoln]

4:00 - 4:50 PM
4:50 - 5:15 PM

Bus to Tours

5:15 - 6:05 PM
6:15 - 6:30 PM

Grand Canonical Ensemble Performs

[

BPS

Atrium]

6:30 - 8:00 PM

Banquet Dinner

[

BPS

Atrium]

8:00 - 9:15 PM

Ice Cream Bar & Physics Slam

[

BPS

1400]

9:15 PM

Bus to Kellogg

20

Sunday

January, 2019

8:30 - 9:00 AM
9:00 - 9:45 AM
9:55 - 10:45 PM
10:45 - 12:00 PM

Coffee Break & Poster Session
Kellogg Lincoln

12:00 - 1:00 PM

Panel: Careers

[

Kellogg

Big Ten BC]

1:00 - 2:00 PM

Box Lunch & Direct action to increase women in physics

[

Kellogg

Big Ten BC]

2:00 - 2:30 PM

Closing Remarks & Poster Awards

[

Kellogg

Big Ten BC]
Workshops
What to Do With a Physics Degree
Wondering what you can do with a degree in physics? What opportunities are available with only a Bachelors, Masters, or PhD? What does employment look like for each of the different sectors (academia, national lab, industry, etc.) and what range salaries can you expect? This talk is meant to supplement the career panel to give more general information about the options you have with a degree in physics and their impact. It will also you give a chance to ask questions about opportunities within different areas of physics and outside of physics, and how to market your physics degree to get those jobs.
Applying to Grad School & Fellowships
Sit down with professors who have been part of the graduate school application review process as they take you through tips for picking and applying for graduate school. These speakers also have experience with students applying for fellowships and will speak about the opportunities available for you to apply for before enrolling at a graduate school along with helpful hints for those applications. Graduate students will also be on hand to share their experience with these applications.
Applying to (and information about) REUs & Summer Research
Sit down with professors who run MSU's REU programs! You'll hear about what REU programs typically offer, along with ways to get involved in other research opportunities and programs. There will also be discussion of tips for your applications and things to keep in mind when choosing where/what to apply to. Graduate students will also be on hand to share their experience with these programs and the application process.
Discussion of LGBTQ+ in Physics
Are you an LGBTQ+ person in physics, or an ally looking to make a meaningful difference? Join us for a discussion with members of the LGBTQ+ community who are at varying career stages in physics. The exact course of the discussion will be driven by the participants, but talking points include sharing experiences as LGBTQ+ physicists, how the field has progressed, where it still needs to go, and what both LGBTQ+ people and allies can do.
Improving Mental Health and Wellbeing Practices
Mental Health can take on many forms and people who work in high stress environments are prone to experience mental health issues. Even worse, studies show that gender minorities experience mental health problems at significantly higher rates. These issues can surface in many forms, including but not limited to depression, anxiety, burnout, homesickness, and Seasonal Affective Disorder. This workshop provides an opportunity to discuss mental wellbeing as pertains to physicists and future researchers in general. The conversation will cover many questions and tips, such as what to do on a regular basis to maintain your mental health, and what actions or activities can help you when you're in panic-mode. This workshop will be led by a trained psychologist and an astronomy postdoc who advocates for the mental wellbeing of early career researchers.
Impostor Syndrome - What is it and how to handle it
Despite having a good GPA, awards, and other tangible evidence of their abilities, many people experience the fear that they're not as intelligent or capable as other people "think" they are. This is called impostor syndrome and the feeling is especially prevalent in difficult fields, such as physics, and tends to affect minorities--though everyone is susceptible. Come learn about how to identify imposter syndrome and methods to use to try to minimize its effect.
Talking About and Navigating Race in Physics
Have you struggled to figure out how issues of race, ethnicity and equity play out in the context of physics education? This workshop is designed for folks that may feel novice in talking about race and ethnicity to attend, but welcome everyone who is interested in exploring this area as well. We will support participants to examine educational spaces through the lenses of race and ethnicity. Topics to be explored will be guided by participant input and may include, but are not limited to: identity, culture, privilege, microaggressions, implicit bias, and color-blind rhetoric. We will engage in group conversations, self-reflection, and practice responding to issues of race and ethnicity that commonly arise for students in physics.
Work-Life Balance & 2-Body Problem
There is life outside of school and work! Attaining work-life balance is a constant and very personal shuffle, and can be especially challenging if you aren't the only person in your household. In physics, we jokingly call the issue of moving around with a significant other and/or household in tow the "2-body problem," and it can be a very large and daunting process to navigate. This workshop combines two topics which may seem different on the surface, but both involve balancing your physics and non-physics life throughout your career. There are no "right answers" we can give, but there will be a panel of people versed with both issues who can offer their experience and advice.
Mentor/Mentee Relationship & Maximizing Your Research Experience
Research experience is an unofficial requirement for graduate school and a good way to develop skills for the job market. This workshop will provide advice for managing your relationship with your research mentor and getting the most out of your research experience. These skills can be applied in other contexts too, including jobs outside of research, since finding yourself a mentor is a good practice no matter what career you decide to go into!
Networking & LinkedIn
Networking is a social skill that can be a boost to any career, whether in academia or in industry. Conferences like this one provide opportunities to network face to face, and professional social media like LinkedIn allows connections to stay alive online. Learn what it means to network, advice for starting conversations, and how to maintain professional relationship throughout your career.
How to Write a Resume & CV 101
Looking at resume templates, figuring out which to choose and what information to include, can feel like an overwhelming task. This workshop will help participants understand resume writing and how to organize education, background and experiences into their own manageable marketing tool. It will also discuss the difference between resumes and CVs.
"Say What?" - Basic Skills for Interviewing
Whether at a job fair pitch, academic program/grad school interview, or job/internship interview, candidates can make the opportunity count if they understand important interviewing fundamentals. This workshop will provide concrete foundation and tasks which will help participants become more comfortable navigating the interview process.
Adapting to Large Universities (from community college and/or small colleges)
Tips on how to survive at a large physics research university at graduate school or transferring in undergrad when coming from a small college. Also discussion on how to transition to working in large study groups and dealing with larger class sizes that have to cater to a range of academic backgrounds.
APS's Professional Skills - Negotiations, Communication, and Leadership
"With support from the National Science Foundation (NSF), APS has trained women in physics to host professional skills seminars for students and postdocs at APS-sponsored meetings and at universities and institutions. Professional Skills Development Seminars are highly interactive workshops where participants will learn and practice communication and negotiation skills." The typical seminar is two hours, but we will try to condense the content without losing the main focus. The goal is to target "professional skills that women need to effectively perform research and thrive in physics, including how to (1) negotiate a graduate, postdoc, or professional position in academia, industry, or at a national lab, (2) interact positively on teams and with a mentor or advisor, (3) think tactically, (4) enhance personal presence, (5) develop alliances, and (6) achieve professional goals." --Taken from APS Professional Development website
Python Programming for Physics Research
Computation is an integral part of all modern physics research, but it isn't always taught in standard undergraduate coursework. This workshop will introduce the Python programming language and several modules that are useful for scientific computing both in the lab and for theory. Depending on attendance and background knowledge, each workshop may be split into "beginner" and "advanced" tracks. Students who have never programmed before are welcome to attend and will be given resources and materials for learning Python.
Sunday's Lunch Presentation: Direct action to increase women in physics
The STEP UP 4 Women project is tackling the issue by designing research-based curriculum/classroom strategies for high school teachers to encourage women to study undergraduate physics. STEP UP 4 Women seeks to increase the number of women earning degrees in physics by dramatically increasing the number of women majoring in physics in college, closing the gap between the those that take physics in high school (~50%) and those that enter college intending to declare a physics major (~20%). Unlike other sciences, post-secondary participation in physics falls dramatically, with high school, in most cases, being the last time we can inform and recruit large numbers of women into the field. If half of high school physics teachers recruit one additional female student to a physics major, the incoming college gap will be closed. --Taken from APS STEP UP 4 Women webpage
Pre-Conference Professional Development Workshop
APS CUWiP at Michigan State is proud to offer a Pre-Conference Professional Development Skills (PDS) Workshop on Friday, January 18th from 12-4 pm. It is free and open to all conference attendees. Register for this additional workshop as part of your CUWiP registration.

The American Physical Society has trained women in physics to host professional skills seminars for students at APS-sponsored meetings. The Michigan State CUWiP's Pre-Conference PDS Workshop is a highly interactive, friendly forum where participants will learn and practice communication and negotiation skills.

The Professional Skills Development Workshop is designed to provide women physicists with professional training in effective negotiation and communication skills, as well as a special opportunity for networking. This workshop will be conducted by APS professional facilitators.

Registration for this workshop is required for a guaranteed a spot. Register as part of your general CUWiP registration. Please note that there will be time on Friday to attend one of the labs tours and the pre-conference workshop.

Participants in the pre-conference workshop should arrive at the Kellogg Hotel and Conference Center before 11:30 to check-in and drop off their luggage. Participants will then be shuttled to and from the workshop site.

Direct action to increase women in physics: How you can help change the physics community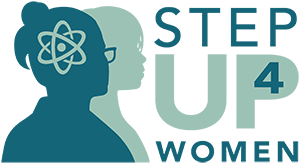 While nearly half of the students taking physics in high school are women, only 20% of the students interested in physics majors in college are women. How can you help to change this pattern? Together with a team of high school physics teachers, physics education researchers have developed two high school physics class lessons and a guide for everyday actions that have been shown to increase the interest of high school women in physics careers. Join us to learn about this exciting program to help high school teachers encourage women to pursue physics careers and how you can help change the way high school students view their future in physics. Learn more at stepup4women.org.
Travel Information
Lodging and most conference facilities for the Mid-Michigan CUWiP will be at the Kellogg Hotel and Conference Center. There are several ways to reach the Kellogg Center, which is located at 219 S. Harrison Rd, East Lansing, MI 48824.
By Car
The Kellogg Center is located at 219 S. Harrison Rd, East Lansing, MI 48824 (if you have an older GPS, you may need to use the old address, 55 S. Harrison Rd).
Parking passes are available with advance notification. If you are coming by car, we ask that you try to carpool with other attendees from your home institution.
By Train or Bus
The Kellogg Center has a shuttle that services the Amtrak/Greyhound station. To schedule shuttle service, please call (517) 432-4000. Shuttle service must be arranged with 24 hours notice.
The Amtrak station code is LNS, and is serviced by the Blue Water and Wolverine trains. The address of the station is 1240 S. Harrison Rd, East Lansing, MI 48823.
The same station also serves as a stop for the Greyhound bus service.
By Plane
There are two airports from which you can reach the Kellogg Center without renting a car: Lansing and Detroit. We recommend using the Lansing Airport if at all feasible.
Lansing Airport
The Kellogg Center has a shuttle that services the Lansing Airport (LAN). To schedule shuttle service, please call (517) 432-4000. Shuttle service must be arranged with 24 hours notice.
Detroit Airport
If the Lansing Airport is not a feasible destination, the Michigan Flyer bus service can get you from the Detroit Airport to East Lansing. This service must be booked in advance. When scheduling your departure on the Michigan Flyer, remember you should arrive at the Detroit Airport at least 2 hours before your flight's scheduled departure time. You must also know which terminal your flight is departing from.
When arriving in East Lansing on the Michigan Flyer, you will be dropped off at the Marriott (333 Albert St). A Kellogg Center shuttle is available to take you from this stop to the CUWiP conference center. To schedule shuttle service, please call (517) 432-4000. Shuttle service must be arranged with 24 hours notice.
Frequently Asked Questions (FAQ)
About APS CUWiP
Application and Registration
Cost and Funding
Eligibility
Travel and Hotel
Miscellaneous
Contact Us
Join us on Facebook or Twitter. If you have any questions or concerns, please email us at cuwip@pa.msu.edu.
Phone: 517-884-5531 (Kimberly Crosslan)
Mailing Address:
Biomedical and Physical Sciences
567 Wilson Rd
East Lansing, MI 48824
Meet MSU's Local Organizing Committee
Chairs & Faculty Advisor
Post-Docs
Graduate & Undergraduate Students
Website Design
Proud Local Sponsors
APS CUWiP at MSU would not have been possible without the generous support from these groups. If you or your group would like to contribute please contact us cuwip@pa.msu.edu.
National Support for APS CUWiP
These conferences are supported in part by the National Science Foundation (PHY-1346627) and by the Department of Energy Office of Science (DE-SC0011076). Further details are available on the
APS conference website.